Write for us

Since we started Starts at 60 back in 2013, we have sought to share your stories. Each day we've published at least two articles written by over 60s. These stories of tenacity, travel, and accomplishment, of opinion, insight and lifestyle are important. Through our very active environment we strive to show people that 60 is not old and in fact is one of the most exciting ages. Now we want more of you and your opinions too.
Our team and voice has grown over recent months and years to reach more than 1.2 million people worldwide per month and close on 5 million pageviews. And we want to grow your voice with it. So we invite you stand up and contribute to Starts at 60 as a Community Correspondent or as a Casual Contributor. You can be regular and rhythmic with your articles or columns, or occasional or even one off.
We're starting a raft of new themes you can contribute to and we'll be launching easy-to-use technology next week that will enable you to log your articles in electronically.
The types of content you might like to submit:
Letters to the Editor: Just like in the old days of the newspaper, you can send in your bite sized contributions and our team will aggregate and publish the best of the week, each week.
What pisses me off: We're looking for a moment in time that really drove you wild. Tell us and a million other over 60s the story in a timely manner.
Life at 60: We love stories that focus on the reality of life. You don't find stars in our midst, just everyday people looking to live their lives to the fullest. These are the stories we love the most. Stories that make people understand how great life can be, how funny life can be and how inspiring life should be at 60.
Opinion Pieces: Got an opinion on a public matter? We'd love you to use our soapbox to stand on and share it with others.
Columnists: Do you have funny views, love cars or craft? or perhaps have always fancied writing a column. Well, it's never too late! We're looking for columnists with a passion.
Reviewers and Commentators: Do you find yourself regularly enjoying the arts or the theatre or trying out new gadgets? Perhaps you are an avid sports lover and want to become our commentator on a subject matter area? Contact us and tell us your interests. We'll be sure to be able to weave you in somehow.
Travel and nomadding bloggers: Do you love to travel, or find yourself on a grand nomadic adventure and want to write about it so others can see the world from your view point? We want the funny tales from your big adventures told week by week. You might be surprised just how many people will hang onto your moments.
Tips and teaching articles: Do you know how to do something and could you contemplate teaching others in story form, or even in video? We love to learn from those with experience and we'll help you put it all together.
Funny Grandparenting: Tell everyone your funny grandkid stories, share the romance of a recent moment that made you laugh… or a video that drove you crazy.
Healthy and happy: We'd like to hear about your diet and fitness regimes inspiring others to get and stay fit.
In addition to this we're interested in hearing stories from our Starts at 60 community about the harder times. Stories of tenacity and survival. Have you survived a terrible illness? The loss of a dear loved one? Losing your home or business? An ugly or bitter divorce? Tell us how you survived and how you made your life better afterwards. Share with other over 60s the advice you would give someone going through something similarly unimaginable?
We'd also like to hear your opinions on current affairs, and current issues.
I'm excited to share that Dymocks will be behind you all the way, and will be providing the best two Starts at 60 published blogs EACH DAY with a $20 voucher to spend instore at Dymocks Stores across Australia, (and online for New Zealanders). If you're outside Australia we ask you to write for the love of it for now. It's worth it!
Each day we'll publish the most compelling submissions. What a wonderful way to inspire others!
To find out more about what we are looking for, please read on, below.
If you have a story to share, you can submit it online. Fill out the form below to let us know who you are and what you want to write about and we'll be in touch.
If you would rather you can email it to [email protected] and put "Community story" in the subject line along with the date.
Please include your:
Story – about 400-500 words is just fine! We love original images too. (We can provide legally sourced stock photos if you don't have an image).
Set up a user profile on Starts at 60 and fill out your simple blurb and upload a headshot to your profile
Fill out the form attached to let us know what you want to blog about – we'll need to get to know you, and your address to which we can send a voucher if you are the best of the day!
If you have pictures of your own to accompany your story please send them to us (or you will be able to attach them from next week). You can even send in a video via our Facebook messaging system if you want and we'll edit.
Please note that your submissions are subject to Starts at 60s standard terms and conditions, and please, no music if you submit a video, unless it's an original work you composed and are playing. Thanks! We have an editing team inhouse who will put a little polish on, so don't worry – we'll always make you look your best.
Thank you for helping us to bring to life the voice of the over 60s. We can't wait to hear from you!
Thanks
Rebecca
Each article published goes into the draw to win a Dymocks book voucher that will be awarded at the end of each month. This offer is for residents of Australia only. However, international prize partners are being pursued.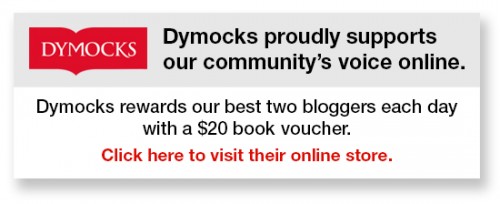 If you have any questions about submitting a story or wish to discuss anything not covered here, you can email our Community Manager, and they will get back to you as soon as possible.