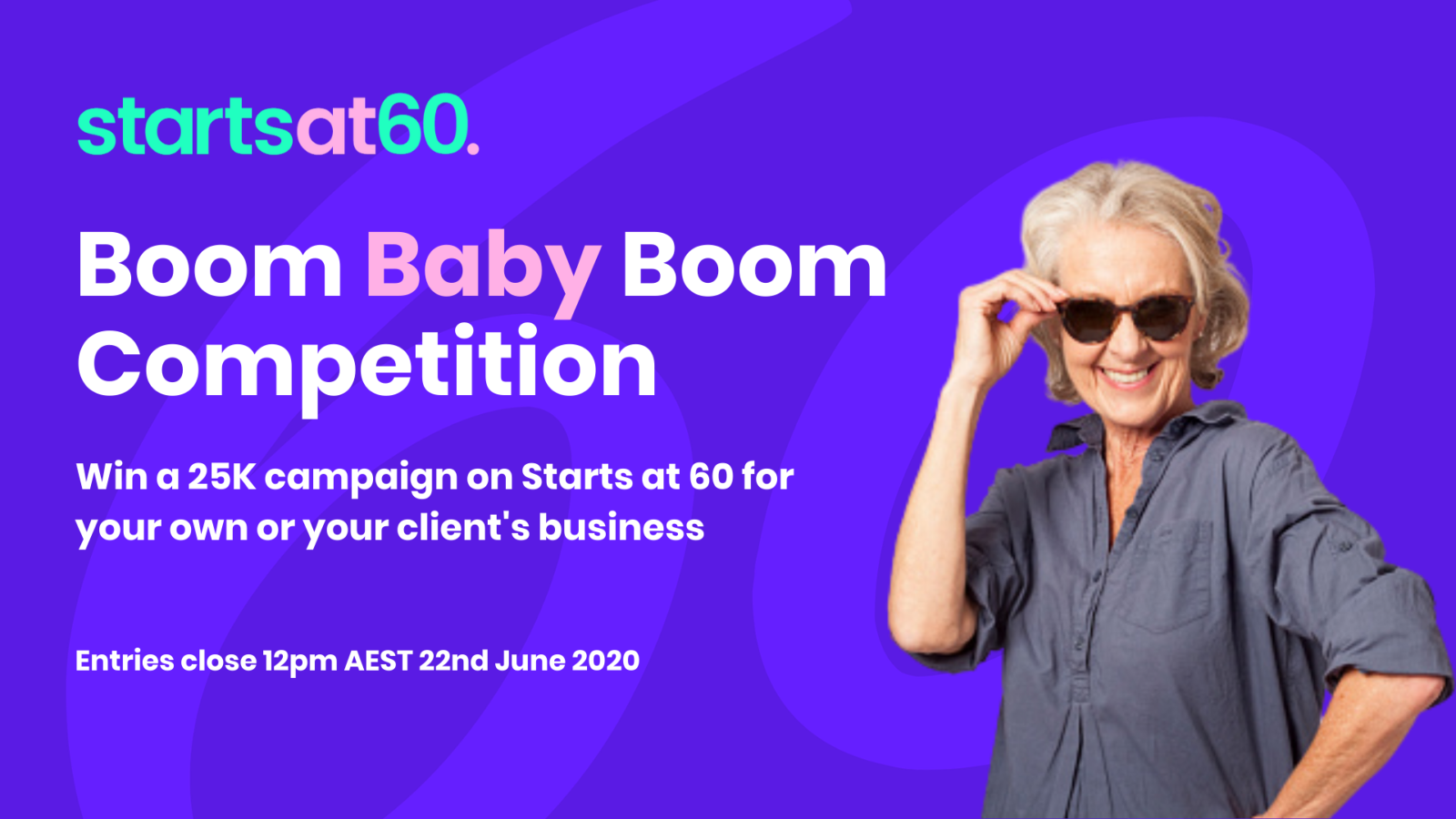 Win a 25K campaign on Starts at 60 between July and September for your business ENTER HERE
Covid-19 has unsettled almost every business in Australia, so we're doing our bit to help by offering an opportunity to find green shoots of consumer support within our massive community of older Australians.  
The Baby Boomer controls 80% of financial assets and 53% of consumer spending in Australia. More than 50% of the demographic are not reliant on employment for their income. 
So it makes sense that Baby Boomers will be among the first to start spending post-Covid-19. 
Starts at 60 has the largest and most engaged audience in the mature segment of the Australian digital market. As a leading platform that addresses more than a million over-60s per month, Starts at 60 helps its community navigate their retirement. We keep a generation informed, entertained and inspired to take action on great deals. 
If you need your marketing messages to reach Baby Boomers and beyond, Starts at 60's partnerships team is here to help you. 
As part of our support for businesses addressing the mature market, we're offering the chance to win a $25,000 media campaign on Starts at 60.
So if you're a business looking for green shoots, why not give it a go? 
---
Major Prize:  A $25K media campaign on Starts at 60's digital assets, which combines
Email native panels

Premium display advertising

Advertorial and recirculation of content.
To win, complete the form and competition criteria by June 22, 2020, at 12pm AEST. 
---
Panel of Judges
Rebecca Wilson, founder and CEO, Starts at 60
Rebecca founded Starts at 60 in 2013, turning a social media sensation for over-60s into an online and offline business that encompasses media, e-commerce and travel. 
Christine Seib, chief content officer, Starts at 60
Christine joined Starts at 60 in 2017 to oversee the business' editorial and commercial content, following a long career at high-profile media platforms in Australia and overseas. 
Vivienne Kelly, editor, Mumbrella
Before joining Mumbrella, Vivienne Kelly worked as a journalist and editor across a number of consumer and B2B financial and real estate titles, as well as in PR. 
Jim Kilkenny, director (retired), SFG Australia 
Jim spent almost 40 years in the financial sector, serving on the boards of several companies. He now works as a consultant and is a director of aged-care start-up Care 360.
---
Conditions of Entry
Entry is simple. In 250 words or fewer, or in a self-shot video (production values will not be judged) that is no longer than 90 seconds, tell us what trade marketing objectives you want to achieve over the next six months and what action you hope to drive with this digital marketing package. Outline the target audience, your desired outcomes and why you think this package will help push your business forward in 2020 and beyond.
Don't forget, 250 words or 90 seconds is tight, so be concise. Our judges will appreciate information-heavy entries and will be extremely strict on word count or time limit.
To submit a written entry, please use the supplied platform. To enter a video, please upload your video to a platform such as YouTube or Vimeo and share the link. Any videos over 90 seconds in length from start to finish will not be considered.
---
Competition Terms and Conditions
Information on how to enter and the prize form part of these Terms and Conditions. Participation in this Competition is deemed acceptance of these Terms and Conditions.
The promoter of the Boom Baby Boom Competition is Starts at 60 Pty Ltd; 2/19 Musgrave St, West End, QLD 4101.
Entry is only open to Australian residents aged 18 years or older who are entering for Entrants company of employment or on behalf of  Entrants client. Employees (and their Immediate Family Members) of the Promoter or Partner or of any related body corporate of the Promoter or of any agency associated with this Competition are ineligible to enter. "Immediate Family Members" means any of the following: spouse, ex-spouse, de-facto, ex-de-facto, child or step-child (whether natural or by adoption), parent, step-parent, grandparent, step-grandparent, uncle, aunt, niece, nephew, brother, sister, step-brother, step-sister or first cousin. A person who meets the entry criteria described in this clause is known as an Entrant ("Entrant")
Promotional Period: This Competition is made up of a single promotional period. The Promotional Period is: Thursday 11th June 2020 – Monday 22nd June 2020 at 12:00 pm AEST.
Prize winners selected & announced: 25th June 2020
To enter the Competition, an Entrant must complete 250 words or fewer, or a short-self shot video that is no longer than 90 seconds.  To submit a written entry, please use the supplied platform, any submissions over 250 words will not be considered. To enter a video, please upload your video to a platform such as YouTube or Vimeo and share the link in the supplied platform, any videos over 90 seconds in length will not be considered. To enter they must complete the fields within the form and provide their email address and consent to contact them by email.
Each Eligible Entrant warrants and agrees that:
they have created the entry themselves;
they are entitled to reproduce and exploit all underlying works in the entry;
the entry does not, and use or exploitation of the entry by the Promoter (and each of its assignees and licensees) as contemplated by these conditions will not, violate the rights (including copyright and privacy) of any third person;
the entry has not been previously published in any other medium or forum worldwide;
they will not submit material that is unlawful, obscene, defamatory, derogatory, abusive, harmful to any person or entity, or otherwise inappropriate or offensive;
and they have not granted rights to their entry to any other person which is inconsistent with the rights granted to the Promoter under these conditions.
Cost of entry via the internet is free, but internet connection and usage rates may apply. Entrants should obtain details of such costs from their service providers.
Entries must be received during the relevant Promotional Period. The Promoter takes no responsibility for late, lost, incomplete, incorrectly submitted, illegible or misdirected entries or for any delays or failures in any telecommunications service or equipment.
By entering this Competition an Entrant additionally agrees to the Promoter's Online Terms & Privacy Statement, together with any standard terms of use and privacy statements of Facebook.
All entrants consent to have their entry published on the Starts at 60 website at startsat60.com and the Starts at 60 Facebook page.
Judging of the competition: The Competition is a game of skill and chance plays no part in the selection of the Winners.
Competition Judging to determine the Prize Winners will take place remotely due to Covid-19.
All of the Promoter's decisions in relation to all aspects of this Competition are final and no correspondence will be entered into.
Failure by the Promoter to enforce any of its rights at any stage does not constitute a waiver of those rights.
The winners will be notified by the promoter making contact with the nominee and requesting permission to make contact with the proponent. The Promoter will send the Prize to the winners by email.
The Promoter reserves the right to modify any of these Terms and Conditions in order to comply with changes to Facebook promotional or other promotional guidelines.
The Promoter reserves the right, at any time, to verify the validity of entries and each Entrant (including any Entrant's identity, eligibility and age) and to disqualify any Entrant who has breached the entry criteria explained in these Terms and Conditions.
Except for any liability that cannot be excluded by law, the Promoter (including its officers, employees and agents) excludes all liability (including negligence) for any personal injury or any loss or damage (including loss of opportunity) whether direct, indirect, special or consequential, arising in any way out of the Competition.
Each entrant completely releases Facebook from any and all liability in relation to this Competition and acknowledges that this Competition is in no way sponsored, endorsed or administered by, or associated with, Facebook.
Each entrant completely releases Starts at 60 from any and all liability in relation to this Competition or the Prize which is provided under commercial terms by Starts at 60 Pty Ltd as a media agency.
Privacy Statement. Entrants' personal information is collected from entrants by or on behalf of Starts at 60 Pty Ltd to enable Starts at 60 Pty Ltd and their agents to manage, administer and promote the Competition and, where applicable, publicise the winner(s) and to provide ongoing communication with the entrants.  The personal information may also be provided to persons assisting the Promoter, including prize suppliers and deliverers, marketing agencies and IT providers, media outlets and related companies.
The winners' Facebook Business name will be published on the Starts at 60 Facebook page, and their names and suburbs will also be published on Startsat60.com. By participating in the Competition, Entrants consent to these uses and disclosures of their personal information and consent they have received third party permission to enter the nominee into the competition.
If an Entrant does not provide the personal information the Promoter requests and consent to communicate, they may not be able eligible to enter or win the Competition. All personal information is handled in accordance with these conditions and the Promoter's Privacy Policy. Information about how to access or correct the personal information that the Promoter holds about you, or complain, can be found in the Promoter's Privacy Policy available online at https://startsat60.com/terms-and-conditions
PRIZE INFORMATION
The prize is a $25,000 media campaign on Starts at 60 digital assets between July and September.
The package includes:
Email native panels.
Premium display advertising.
Advertorial and recirculation of content.
Prize is valued at $25,000.
The prize must be implemented between July to September 2020. The prize is only available during these dates and cannot be changed. If the winner is, for whatever reason, unable to use the prize during the nominated timeframe, or do not take an element of the prize within the time stipulated by the Promoter then that element of the prize will be forfeited by the winner.
If any prize (or part of any prize) is unavailable, Starts at 60, in its discretion, reserves the right to substitute the prize (or that part of the prize) with a prize to the equal value and/or specification, subject to any written directions from a regulatory authority.
Prizes, or any unused portion of a prize, are not transferable or exchangeable and cannot be taken as cash.
There is one $25,000.00 media campaign to be won for one business. The entries judged to be the best based on (The 'Criteria') will be selected as winners and will receive the prize.